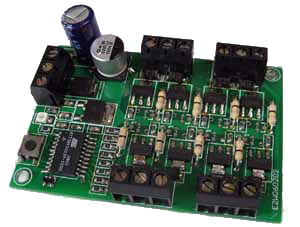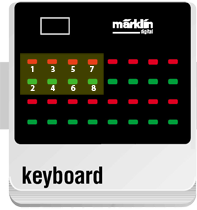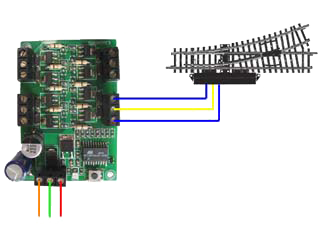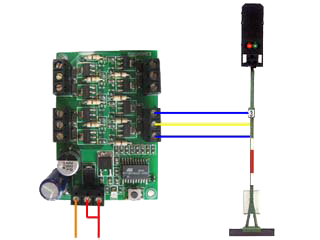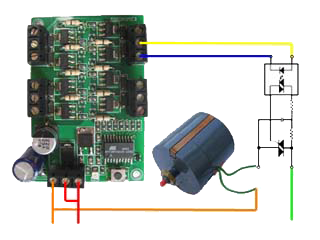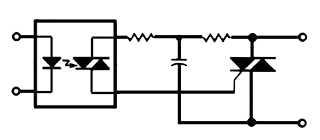 railway turnouts decoder, also for light
Basic functions:
First designed as compatible railway turnouts decoder, then additional features provided for controlling turnouts, signals, coils or lighting.
Each decoder has 8 outputs up to 1A.
setting up the decoder is easy with the (Marklin) keyboards
The decoder has several settings:

1 Default: with this setting, the decoder follows the key pressed on the keyboard.
2 Pulse: hereby the output is made active for 250ms, regardless of the length of the command.
3 Flip Flop: used for signals, and the output red - green switches according to the selected key.
4 Flip Flop with fade: Same as 3, but LEDs fade on or off.
5 Blinker: , the selected output will blink, the corresponding output goes.
6 Blinker with fade: Same as 5, but LEDs fade on or off.
7 Lights: here you have 8 outputs with red and green, the respective outputs toggle on and off.
8 Lights with fade: Same as 7, but LEDs fade on or off.
Setting up the decoder
In normal decoder operation, the red LED will blink slowly. To set the decoder, press the programming button the red LED will blink fast, then press the buttons 1-8 on the group in which the decoder needs to function, in accordance with the selected mode.
If the decoder has detected the command, it will go back to blink slowly. If no correct command received within 20 seconds, the decoder keeps the old settings.
The lack of DATA on the decoder makes the red LED light constantly.
Connections
Although the decoders can get enough energy from the driving voltage to even overturn old stubborn turnouts, it is wise to provide ~16V (green wire) to turnouts and signals commanded by solenoids. When using LEDs or lamps, this is not necessary.

Solid state relais
Since not all power consumers can be connected directly, like big power consumers or ground (brown) referenced elements, a solid state relay is added. This relay features an optocoupler and triac power switch, and therefore operates on 16V ~. The solid state relays can switch up to 3A, both for inductive loads, such as motors for crane, pumps for fountain or waterfall, etc. ..