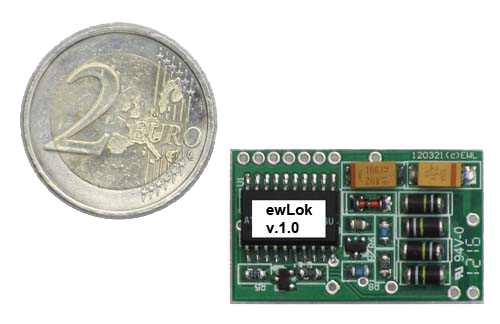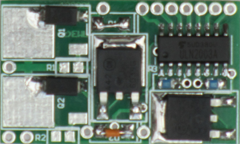 The loc decoder
Purpose:
Because we wanted to give a lot of older locomotives a new digital life, we were looking for a cheap solution.
Connection for lighting according direction
The decoder has 4 function outputs up to 500mA.
the pcb is designed for both DC and AC motors
motor control by pulse width modulation
decoder is easily adjustable by means of CV values, according to standard protocol
Expansiong decoder:
The base decoder is provided with a microprocessor with a program memory, 2K, sufficient for normal operation in Marklin new Motorola (MM2) mode.
By using a 4K microprocessor, using and studying the MFX format, we can transform the decoder to follow both MM2 and MFX commands. MFX allows multiple speed steps, yielding even older engines run smoother.
In the current version of the hardware and software there is no feedback (automatic registration) provided.
Feedback:
In a future version, the pcb will be extended with the necessary hardware, a programmable current source with 120mA data modulated at 52.632 KHz (Marklin RDS) for the feedback. In our case the new interface will be equipped the 52.632 KHz RDS receiver.
Installation example:
| | |
| --- | --- |
| 1. An oldie to rejuvenate... | 2. Removing the changeover relay |
| 3. Removing interference suppression capacitor | 4. For the lighting we use SMD LEDs 2mm |
| 5. The LEDs are soldered to a fine transformer or coil wire | 6. testing the lighting with a current source of 10mA |
| 7. apply the serial resistors and glue into the housing | 8. connect the decoder and equip with a plastic cover, and all close all. |